Starting a wedding registry can be a daunting prospect for a newly engaged couple and frankly, can cause a lot of stress. Who needs that? I can tell you that when I became engaged, many years ago, you actually had to walk around the store and check off a bunch of little boxes on a piece of paper and it was the most disorganized mess no matter what store you went to. Yikes! Yes young ones, we used to do this kind of thing WITHOUT a computer. Weird!
Today when you go into a store, they get you registered on the computer, hand you a scanner and send you on your way. Your inner store keeper comes out and you start scanning anything and everything and before you know it, you are aimlessly scanning things you aren't sure you really need or that you have never even seen before. The next few posts will help you sort through what you should put on your registry so that it reflects the needs of you and your future spouse.
One other thing to discuss before starting your registry is how much time it will take to complete this very important part of your wedding plan process. The easy answer is on average that it takes about 3 hours or more if you want to get it all done in one shot. Depending on how many items you are putting on your registry, it will be a little longer or a little shorter. Since I have experience working as a bridal consultant in a large store and hope to get even more some day (no rush daughters of mine!) I thought it might be helpful to share some tips on how to put together a good solid registry that will give your wedding guests lots of options but also cover all the bases of what your needs are as a couple. This is the happiest time of a young couples life so I think this whole process should be fun!
Since there is so much material to go over, I will divide this up into a few posts so that it isn't too much for one reading! There really is a ton of information out there and this is just my little slice of experience so take what you think will work for you and use it. In the next two posts I will be sharing:
Wedding Registry Basics
Where do I start?
Who should go with me when I start my registry?
How long should I plan on being at the store to complete a registry
How many items should I put on my registry?
What should I put on my registry?
What Should I Put On My Wedding Registry?
How many sets of sheets will I need?
How many sets of towels will we need?
How many place settings of everyday dishware (plates, silverware and glasses) should I put on my registry?
How many place settings of china, crystal and silver should I list?
Returning wedding gifts.
To close out today's blog post, I would like to show you a few of the things that are really popular right now with brides (and grooms) that you might want to consider putting on your future registry. If you have some ideas as well, please share them with me. I would LOVE to add them to a future post.
These
Oxo Good Grips Pop Containers
are the best storage containers, period. Some of the great features about these containers are that they are air-tight and you can pop the lids off with just one finger, they are square shaped and stackable and they are clear so you can see what is in them. You can buy separate pieces or there are starter sets that are also available. Whether you have a small kitchen area and don't have a lot of storage room or you want to use these on your counter top, you will love these containers.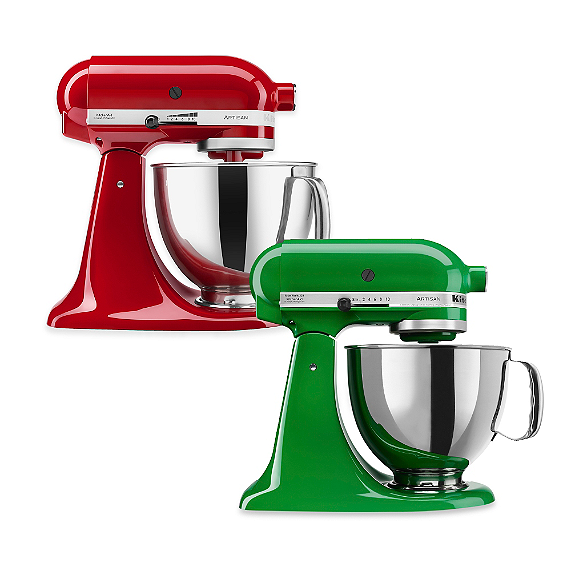 Unless you absolutely don't like to bake, you may not be thinking about putting a
Kitchen Aid
stand mixer on your registry but I must tell you, it does so much more than just help you in the baking department. I have had mine for about 22 years and I have used it more than any other appliance in my house. And, they last FOREVER! They now come in so many great colors that if I had to decide on a new one today, I wouldn't be able to do it because I wouldn't be able to choose. They are pricey starting out at about $349. but all you really need is a basic model anyway. You can also put additional items on your registry by scanning some of the very helpful attachments like a pasta maker, a vegetable slicer, a cheese grater, a meat grinder and an ice cream maker! See, it does everything but wash your dishes!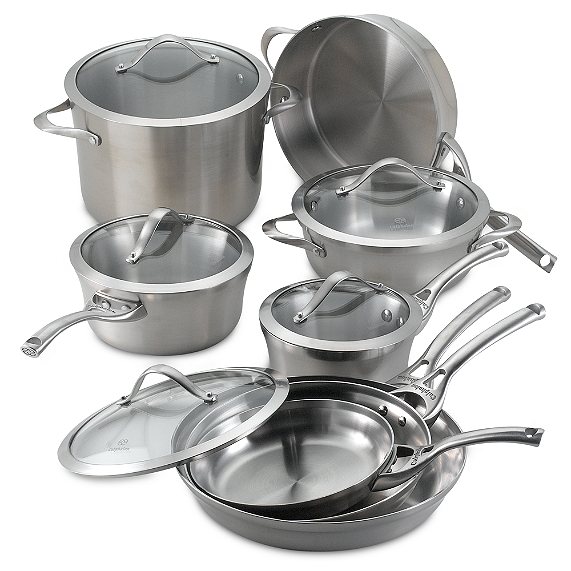 This is some of the best cookware on the market today and I wish I had some! Made of two layers of heavy gauge stainless steel surrounding a fast heating aluminum core, this cookware is not only versatile but beautiful. You can use these pots and pans on your stove top and then pop them in your oven up to 450 degrees AND you can wash them in the dishwasher! They are not your grandmothers pots and pans, that's for sure. They come in many styles and you can use metal, wood or nylon utensils in them. These are also pretty pricey ranging from around $199 - $600 for a nice set but you will never have to buy another set of pots and pans so it is worth the money. You can also just but separate pieces.
Now, don't try to tell me that you have never heard of
Dyson Vacuum Cleaners
before because unless you don't watch t.v., and I am sure there are some who do not, you have seen the commercials for these fancy dirt catchers. There are several different models to choose from but some of the neat features about a
Dyson
are that they are bagless, filterless and they capture particles as small as pollen, mold spores and even bacteria to get your home as clean as it can possibly be. These vacuums are some of the most expensive around but they have a great guarantee, their reviews are usually very good and they tend to last much longer than the more traditional model of vacuum.
Aren't these great colors and shapes? And there is so much more where these came from in
Noritake's Colorwave
collection. These are modern dinnerware sets that can double as everyday ware as well as serve guests for more formal occasions. You can mix and match the pieces from the different shape collections and come up with some beautiful combinations. The best part about these dishes though I think is that they are dishwasher, microwave AND oven safe up to around 425 degrees. At $40.00 per place setting (dinner plate, salad plate, bowl and mug) you can't go wrong if these are the only dishes you are going to have.
So those are my top 5 for this post. On the next two posts regarding the helpful hints for building a great wedding registry, I will show you a few more things that are popular with brides and grooms right now. You won't want to miss it!
Happy registry planning!